Stay up to Date with the Latest Edition of the HHCU Newsletter!
Here's a sneak peek at what's inside the Spring 2022 issue:
-Zelle – The Safe, Easy and Fast Way to Save Money
-A Message from President/CEO, Travis Markley
-Pledge 1% Effort Brought to Holiday Cheer to Hoosiers
-Annual Meeting 
-2 Ways to be Rewarded for Your Auto Loan
-Wear to Care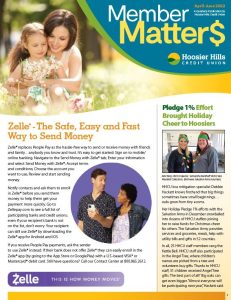 News Releases
Hoosier Hills Credit Union's West Side Drive-Up Renovations to Provide 24-Hour Banking Center
September 29, 2021 – Bedford, IN – Hoosier Hills Credit Union is set to begin construction Friday, October 1 on renovations to provide a 24-Hour Banking Center for its members.
Beauchamp Named a Bedford Young Professionals 4 Under 40 Winner
September 29th, 2021 – Bedford, IN – Katherine Beauchamp, Senior Vice President of Human Resources for Hoosier Hills Credit Union, was recently named one of Bedford Young Professionals' 4 Under 40 award winners. She is among those selected in the third year of the awards program.
2021 Annual Report