Update Your Contact Information Please
To provide you timely communication regarding fraud alerts, promotions, and other important account information, we would like you to verify your contact information.
Rest assured, it is very easy to do so and will only take a few minutes! For your convenience, we have included visual step-by-step instructions below. For additional help, please stop by your nearest Service Center, or call our Contact Center at 800.865.2612.
Thank you for your assistance regarding this important contact information update.
How to Update Your Contact Information within Online and Mobile Banking:
Step 1: First, you will need to log in to Online or Mobile Banking. Next, in the left-hand window pane,select "Settings", followed by "Contact Information".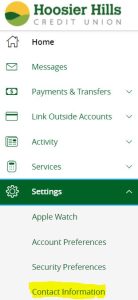 Step 2: Then, choose "Select All" to update all of your HHCU accounts or directly check the individual boxes for specific accounts you would like to update.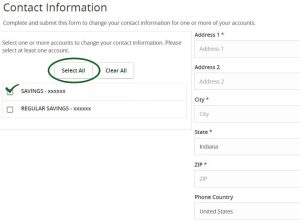 Step 3: Once you have finished updating your contact information, please select the green submit button to save your entries. Once it has successfully submitted, you are finished.