Posted by hoosierhills
on
Happy International Credit Union Day, to both our loyal members and dedicated employees!
Our mission is to be better for our members by making a positive difference in their lives and in the communities we serve. Despite the challenges of this year, we've weathered the storm together and have remained committed to helping our members, who are the reason we exist!
Throughout the COVID-19 pandemic, we've been proud to have the opportunity to help our members and communities through:
Creating a Member Relief program that featured payment deferrals, withdrawal fee and limit waivers and a low-rate Good Neighbor Loan with deferred repayment.
Helping the businesses who make our communities strong through the Paycheck Protection Program.
Assisting a record number of members with home purchase and refinancing, despite COVID-related challenges including closed lobbies.
Helping members trim extra costs through our Lowest Payment Challenge program.
Creating and distributing COVID-related fraud content to ensure our members remained protected.
Donating $10,000 to the COVID-19 Relief Funds of the Community Foundations in our primary service area.
Supporting local businesses by providing lunch to our employees from favorite local restaurants.
We believe difficult times, just like the one we've experienced together in 2020, are precisely the time when we have the best opportunity to demonstrate what makes credit unions unique.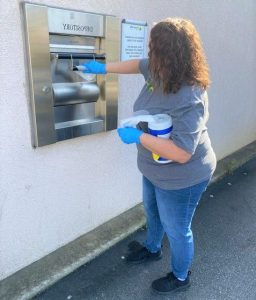 We sacrificed fee income and made the kind of loan decisions necessary to help the members who are the reason we exist! These were the right decisions for our members, for the betterment of our communities and for us as a Credit Union committed to the members we serve each and every day.
Thank you to our members for your continued loyalty and support, and to our employees for their dedication to serving the best interests of our members.